Accident-prone during the holidays?
Use our holiday hazards and safety tips
"It's that most…hazard-prone time of the year!" While that's not exactly how the lyrics go, it's true. We've all added to our monthly list of to-dos by ten-fold. To accomplish the list, we're working faster and harder, and often not paying attention to holiday hazards as we encounter them. Here are a list of holiday hazards and safety tips to circumvent accidents or injuries during the holidays.
The most prevalent cause of injuries during the holidays? Car crashes. Roads are more crowded, particularly near shopping areas. The cold, icy weather isn't cooperating. And we're in a hurry, because our shopping time is limited.
Electrical shocks and decorating mishaps (primarily falling from heights) are next on the list, followed by fires, kitchen mishaps and food poisoning (now THAT will spoil your holidays!). Review the infographic below with additional tips to watch out for, such as visiting children who go after your medicines and other dangerous items, back injuries from carrying overloaded boxes and suitcases, and more.
Keep your holidays fun-filled and accident-free!
The infographic is provided by Safestart. You can download their other free holiday safety resources here.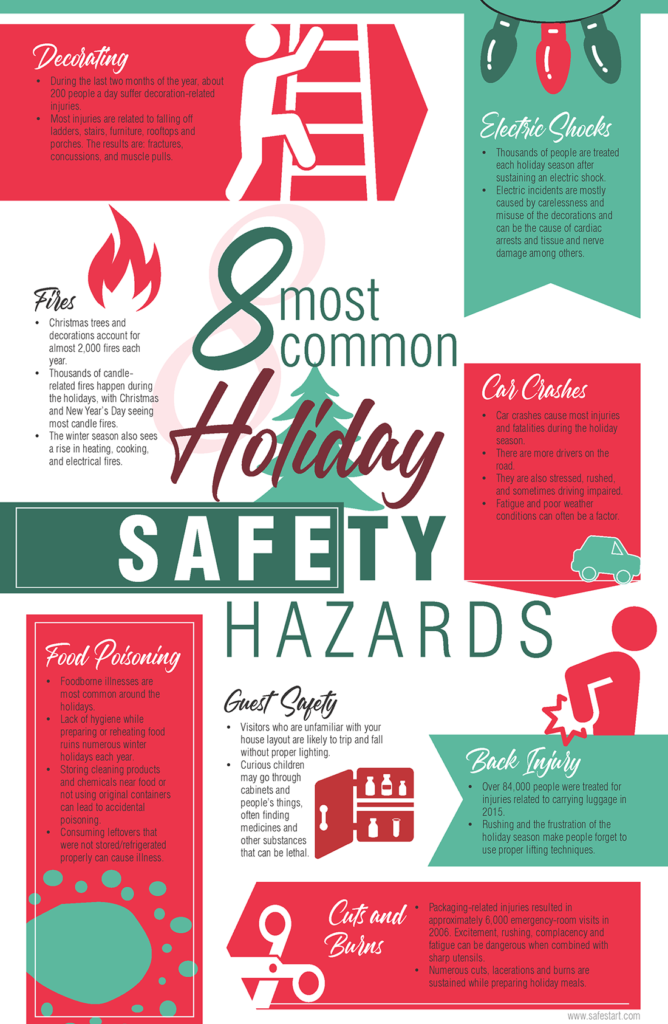 This article originally ran on Arrowhead's corporate blogpost. It has been modified to better fit the needs of our tribal clients and their agents.